Carrom is one of the most popular games across the globe. Almost all of us from all age groups are fond of carrom. Carrom cherishes our childhood memories when we used to play with our friends. The game of carrom becomes more interesting we start playing over the internet on our smartphones. There are many online carrom games which we can play and enjoy with our friends. Basically, these online carrom games help us to play various tournaments where many participants across the globe will compete with you. After various rounds, if you manage to win with your sharp skills then you will be declared the winner. These online carrom games will also help you to cash prizes. In this article, you will get to know about the top 10 online carrom games which you can play on your smartphones.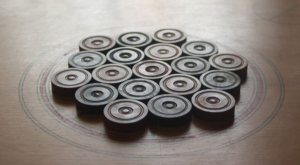 Carrom is a game that is played by all the age-groups
Carrom Pool
First, comes is the Carrom Pool. Carrom Pool is made by the company known as Miniclip. We are all aware that Miniclip is an amazing gaming company that makes lots of online games just like Carrom Pool appreciated by many users. In the carrom pool, you can have a realistic experience which will definitely enhance your gaming experience. Here you can have the liberty to play both in the online and offline modes with your friends. There are also two multiplayer modes inbuilt into the game such as Carrom and Disc which makes the game more versatile. You can register yourself in this game without any cost.
Carrom King
You all must have been aware of the famous game known as the 'Ludo King'. The reason Ludo king is being mentioned is that the carrom king is launched by the same developer who has made the ludo king. Just the all of their amazing games the carrom king has made a huge success among the carrom online players. This game has many modes and features which will make the home more versatile. You can play online as well as offline with your friends in this game.
Carrom 3D
Carrom 3D is a unique game among all the carrom games. This game provides you with a 3D environment while playing which will give a top-notch gaming experience. This game is made in a very unique manner such as applying 3D cameras which make you feel that you are playing in a real carrom board game. In Carrom 3D you can have an amazing experience with your friends. You can register yourself for free in this game. You can play online as well as offline with your friends in this game.
Carrom Friends
Just like the name of this amazing game you can have a great carrom experience with all of your friends. In this game, you have plenty of modes and cool features. You have different kinds of modes such as playing carrom matches 1v1 and 2v2 as in multiplayer. If we see in the offline modes then the inbuilt AI of this game is also available to play challenging matches with you. This game has different lobbies such as Delhi, Mumbai, Riyadh, Tokyo, and San Fransisco. You can play there depending on your coin values.
Real Carrom
Real Carrom is one of the best carrom board games which is liked by many users across the globe. The prime reason is that this game is very versatile and gaming-friendly with lots of features and playing modes. Also, there are different types of bards that you can unlock which have their own unique abilities. Depending on your victories and coin values you can win and unlock new abilities which will make you stronger and more challenging for your opponents.
Carrom Superstar
Their many online carrom board games where you will get access to various features and abilities but if you just want to play traditional carrom then Carrom Superstar is perfect for you.
Carrom superstar is a simple, orthodox, and much-focused carrom game. This will make you play carrom more deeply which will give you original experience. You can register yourself in this game for free. This way you can enhance your carrom skills and become a pro in this field. This game will basically nourish your aim and thinking ability for this game.
Carrom Champion
Carrom Champions is a kind of online board game that is appreciated by many of its users. There are many top-level carrom board games but in Carrom champion, there is something unique. This game is built in 16 different native languages which will allow many players to play and enjoy the game most comfortably as possible. Other features are there are many modes in this game that will make the game more competitive and challenging. This game can be played online as well as in offline mode.
Carrom Stars
Carrom stars is an amazing game with lots of features and abilities. The abilities will get unlocked only if you have reached a certain level and have the necessary coin value. This has a realistic gaming experience with good physics. You can also get new stickers by unlocking them. There are many carrom tournaments which can be played. If you have enough skills and a good aim you can also be the tournament winner. There is a list where you can check your rank globally. In this game, if you start getting higher ranks then you may be able to win various cash prizes.
Carrom Board Game
In this game, you can register yourself with your Facebook or Gmail account. Where you sent an invite to all your friend through Facebook and Gmail. This game has many features and abilities to unlock but the unique thing is this game consumes a very less amount of your data, which lets you play haste free without thinking about your internet pack. This game is also quite appreciated by its users.
Carrom Clash
Carrom clash is a different type of board game which have 100 levels where you will meet many challenges. It has many abilities and the level will be crossed by your sharp skills. This game can be played in both online and offline mode.
Conclusion
By reading the article, hope you are now satisfied to know about the top 10 carrom board games. All these games have their own kinds of features which will provide you and your friends with absolute joy. Enjoy playing games with your friends and family on the GetMega app.